PATROL DIVISION
---
The Patrol Division is responsible for making initial contact after dispatchers receive a call about a potential crime. The division includes more than 24 officers who gather information about incidents, make rounds across campus, and interact with the community. As first-line responders, these officers are prepared for a variety of situations. Patrol officers work closely with the Crime Victim Advocates to respond to victims' resource needs.
The primary functions of the division include conducting routine patrols to deter and respond to criminal activity, responding to emergency calls for assistance, conducting investigations at the initial stages of incidents, and engaging in community policing efforts to build positive relationships with the community. This division ensures a visible police presence, enforces traffic laws, and handles a wide range of incidents, from accidents to disturbances, making it a vital component in the overall mission of safeguarding public order and protecting our campus community.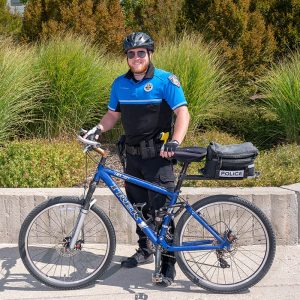 BICYCLE
The University Police Bicycle unit offers a proactive community policing presence on campus. By patrolling on bicycles, these officers can access remote locations and are more approachable to pedestrians and other cyclists. During big events, such as football games, this unit can cover crowded areas quickly. The bicycle division at the U has full-time officers who have earned a certification from the International Police Mountain Bike Association (IPMBA). Their uniforms are blue and black.
Researchers around the country have shown that bicycle patrols have important benefits for communities and police departments. In 2007, a study conducted by Chris Menton at Roger Williams University, found that bike squads in five different cities exhibited higher contact with the public, and in some cases, superior response time and capability. Additionally, environmental benefits and health benefits are linked to bicycle patrol divisions.
K9
The K9 unit consists of well-trained dogs trained to search, locate, and alert their handlers when dangerous explosive materials are present so safety precautions can be taken.  When this division is not in training or on special assignments, the K9s are on campus patrolling and responding to calls. As a specialized division, this team also assists other agencies, searching in vendor vehicles, at venues for sports events, during dignitary visits, and responding to calls about suspicious packages.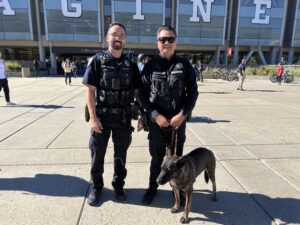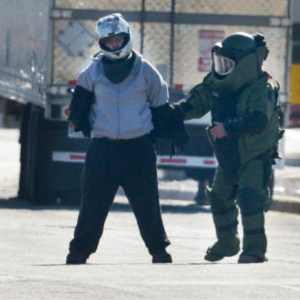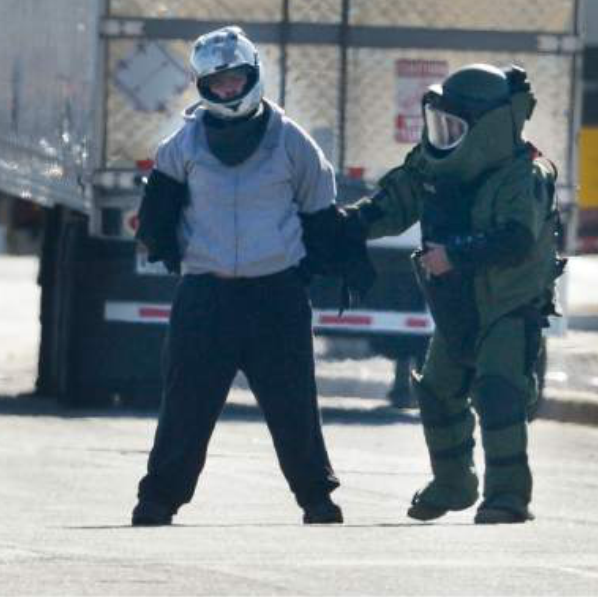 HAZARDOUS MATERIALS
The University Police have officers who work with the Salt Lake City Bomb Squad, which is a group of eight officers representing the Salt Lake Police Department, the Salt Lake City International Airport, and the U. Together, this group works to protect the state of Utah from any potentially explosive situation.
To be part of this prestigious unit, officers are trained at the FBI Huntsville Hazardous Devices School and the Terrorist Explosive Device Analytical Center in Alabama. There, they learn about the properties and characteristics of hazardous devices, as well as how to defuse bombs.
LET YOUR VOICE BE HEARD
We are committed to continuous improvement and to creating a safe environment that meets the needs of the U community. Please share your feedback with us. This information is received by the Office of the Chief Safety Officer, which serves as the central administrative unit for all public safety functions, including University Police, Community Services, Emergency Management, Emergency Communications, Campus Security, and U Health Security.
Share Feedback